Quick Business Growth Quiz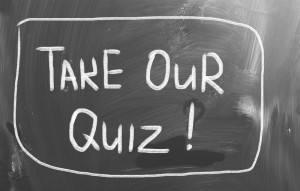 Sometimes in business it is hard to know what you should focus on to move your business forward. After all, there are so many things that need your attention. So many decisions to make. Tons of great ideas that just need to be implemented. How do you decide what to do first and how to make progress in the areas you need to?
Here is a quick quiz. Just taking it should help spark some ideas for you about what is your top priority. And based on your overall score, we'll share a couple of ways LifePoint Strategies can help you move forward in your business.
Instructions:
Using this scale, give yourself a score from 1 to 4 in each of the following areas.1=Rarely, Not at All or Not Sure
2=Sometimes, Not Consistently, Maybe
3=Usually, Feel Pretty Strong in this Area
4=Yes, Very Strong in this AreaMy business provides a good, right-priced product or service that solves a problem or fills a need for a clearly defined target market.
1 2 3 4We consistently implement a results-focused marketing plan and measure our ROI.
1 2 3 4My team and/or I execute on a clear, steady vision for the business.
1 2 3 4The business is consistently profitable and the owner(s) are paid regularly.
1 2 3 4
Add up the numbers of each answer to give yourself a score from 4 to 16 and see what we recommend for you and your business.
If you scored 4-10:
It is likely that many things are inconsistent in your business from having enough cash flow to pay everything (maybe even yourself) regularly to knowing what marketing you should do to increase your revenue. It is likely you want to have a team to help you more but don't know how to get there. You can use some help around business strategy, marketing and possibly leadership to move ahead in your business faster.
We suggest our new The Leader's Edge Business Growth Training as your first step to building your business.
If you scored 11-13:
Your business is likely pretty steady and yet you still see a few key things you want to stabilize or improve. The sensation of "almost being there" is probably familiar to you. Things may shift quite a bit in your business. One day everything is great and the next things are quite chaotic.
To find out how we can best help you at this stage of your business, please schedule a complimentary Business Review:
If you scored 14-16:
Congratulations. You have built a solid foundation for your business and are ready to move to the next level in your business. In that level you will see considerable profit being returned to the business owner and your marketing will begin to produce predictable results. You're also ready to work on building your team, both in size and through strong leadership.
To find out how we can best help you at this stage of your business, please schedule a complimentary Business Review:
Bottom line, growing your business is not something you have to do alone. We are here to help. Hope that 2014 brings great success to you.
Every business owner works hard.
Allow us to come along side you and
together we achieve your ultimate vision.