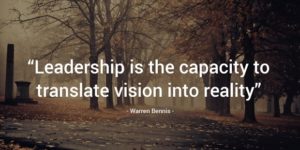 Since founding LifePoint Strategies a number of years ago, I've been fortunate to have helped many of Colorado's business owners grow their businesses. One thing I've learned is that the pain points are pretty much the same for just about everyone, and whether you are a solopreneur or you have a team of 100 employees, the issues are usually rooted in the same main theme: Leadership Qualities.
I thought it might bring some comfort knowing you're in good company with the trials and tribulations of small business. And, I thought I would share some insights on the top 5 ways I help people with their leadership skills.
Value your unique strengths. I truly believe everyone is born with unique strengths—what you are designed to do. Discovery and/or definition of unique strengths is the starting point in a LifePoint Growth Program, because while it's often the most overlooked exercise, it's quite possibly the most essential. When each person realizes their strengths and learns to lean in to them such that they are leading their work and life through their unique strength, they are happier, everything feels easier, and both work and life are more rewarding.One of my favorite books I tell people to read on the road to unique strength discovery is You're A Badass by Jen Cisnero. I highly suggest you read it. It's a fun read if nothing else, and you won't believe how empowered it will make you feel.
Never underestimate the power of a strategic plan. The best way I know to build a successful business and your ideal life is to understand your vision for the future of your business (and your life), set long-term goals and small steps to achieve them. One book that inspired me to follow a strategic plan is Traction by Wickman
Hold yourself accountable to that strategic plan. And if you can't, find someone who will. This is one of the great benefits of working with a LifePoint Business Advisor. We can be the objective perspective you need, help you make decisions, and we can hold you accountable to your vision and your plan. It's what we do. To bolster your accountability strenghts, I might suggest reading Boundaries by Townsend.
Make sure you are effectively communicating your vision and your plan. Here, it's about bringing your team members in and including them in the process, the successes and the outcomes. Not just the failures. It's making sure you set clear expectations for them, and ensuring they understand your vision and are committed to your plan. And, also very importantly, that you encourage them along the way, with feedback that motivates, rewards, and guides. Some inspirational reading on this topic would be Crucial Confrontations by McMillan, Patterson and Grenny.
Manage your time wisely. Understand where you are most energized, where you are most valuable, and what you need to do to be happy. Then structure your week around it all. Make sure you are spending time where it's most needed to make money, to find inspiration, and to relax. Time management is one of my strengths, and leaning in to this strength with the ultimate goal of helping other business owners, I've written a white paper on this topic: The Perfect Week White Paper by Terri Starck (email me to get the white paper at terri@lifepointstrategies.com). You can also read the fabulous How do you Eat an Elephant by Bill Hogan
I am an avid business reader.  In fact, I know one of the main ways I've grown my business—and helped so many others—is by reading, and that's why. It's amazing where you'll find inspiration. Growth takes time and discipline. If you look at this list and say, "I'll never read those," you won't. When you slow down and intentionally take the time to grow as a leader, you will benefit. We all do. Me included.
And I'd be remiss if I didn't also say that if you'd like a partner to help you along the way, you can always call on a LifePoint Strategies Business Advisor. We'd be happy to help you out.